Welcome to TRITON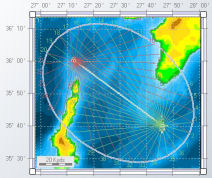 TRITON is a prototype PC/Windows-based software environment for the analysis of bistatic underwater acoustic detection systems in noise and reverberation conditions.
The analysis is performed taking into account range-dependent environmental (hydroacoustic and geoacoustic) characteristics, as well as operational characteristics of involved platforms, including directivity patterns of target and receiver.
TRITON has a modular design and features electronic maps and user-friendly interfaces for the description of the analyzed systems and supports dynamically interchangeable environmental databases offering global geographic coverage.
The produced results include transmission loss from source, transmission loss to receiver, total transmission loss, scattered field intensity at the bottom, transmission loss from bottom to receiver , bistatic reverberation (directional), signal - to - noise / reverberation ratio and detection areas.
TRITON has been developed by the Wave Propagation group of the Institute of Applied and Computational Mathematics of the Foundation for Research and Technology - Hellas (FORTH/IACM) – Greece.